By The Tim on May 18, 2010 in projects | 4 Comments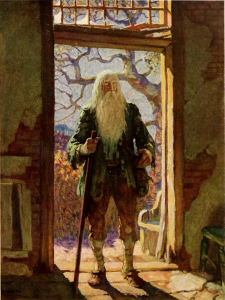 Rip Van Winkle
Ill. by N.C. Wyeth,
Public Domain
My, it's been quite a while since the last update here, hasn't it?
Rest assured, I am still alive and kicking. Just renewed my LLC for another year, and I'm hard at work. Here's a quick rundown of what I've been doing and what I'm working on today.
2009
Started a part-time job doing electrical engineering to supplement the income from Thatch Mound. Unfortunately the job quickly turned into a basically full-time job, and sucked away all the time I had to work on The Naked Loon and some of my other unreleased projects. On the plus side, I earned more money in 2009 than any other year of my life to date.
2010
I left the electrical engineering gig in March, and have been spending most of my time since working on a new project that I'm really excited about.
Here's the current status of my various projects:
Seattle Bubble – Active and updated daily.
Sound Housing Quarterly – Active, new issues published quarterly.
The Naked Loon – In hibernation. I really hope to bring it back.
Priced Out Forever – In hibernation.
"Project PicSmack" – New! Fun! Exciting! Currently in private beta test!
"Project Sahara" – On the back burner for an indefinite period of time.
"Project Pubblefish" – Dead and gone, never to be released.
"Project Madison" – Mostly dead. Probably not coming back.
There will certainly be more details to come on the mysterious new "Project PicSmack." For now I'll just say that it's an idea I had about nine months ago that I think has some big potential. Hopefully I'll have a big launch announcement to make here in a month or two.
That's all for now. I'll be doing my best to begin updating this blog again at least once a week. We'll see how that goes.
→ 4 CommentsCategories: projects
Tags: history, Madison, Naked Loon, PicSmack, POF, projects, Pubblefish, SeaBub